Tech across the Homebuying Journey
Proptech and the 3 stages of technological change
Hiya! 
You are receiving this email because you subscribed to 4 Cool Jobs. My name is Lea  👋.  I started writing this because in my 20s I've watched all my friends try to work at the same 6 big companies. Bad news: passion nor probability work that way. Good news: cooler opportunities are elsewhere.  4 Cool Jobs is a newsletter about the elsewhere.
---
This week: real estate startups ("proptech")
For new subscribers: welcome and hello!! Every two weeks, I pick a new trend for this newsletter. Even if you don't come from a real estate background, the 🧙‍♀️magic of startups is that if you feel even a small tug of interest, there is almost always a place + a company where you can contribute.
Why Proptech?
As one analyst wrote, "one of the most reliable startup…strategies is looking at where people spend a ton of money but hate the experience."
Change in real estate has come slowly since the 1980s, over the course of three waves (source, source):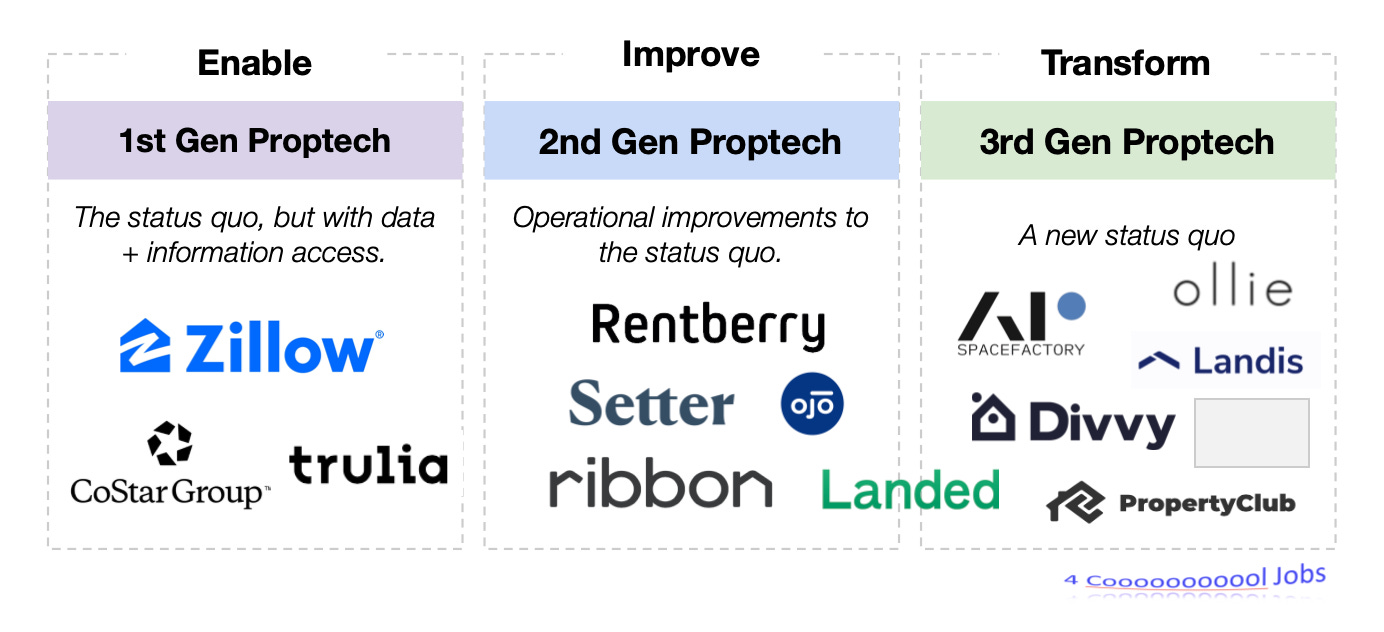 Gen 1 proptech focuses on enabling the status quo of real estate with data + information access.
From about 1980-2008, real estate looked the same as it had forty years prior, but people had discovered Excel-predecessor database tools for information sharing. Realtors created the MLS, a comprehensive list of all the properties on the market, and commercial real estate giants-to-be, like CoStar, leveraged this data immediately. About 15 years later, residential real estate tools like Zillow emerged to bring this data to residential home buyers, sellers, and renters.
Gen 2 proptech makes operational improvements to the status quo.
Information availability in real estate via Zillow et als didn't change how the process of homebuying actually worked, so next came tech-enabled operational improvements to homeownership and homebuying. Think AR, AI, and software-based friction reduction. This is what I'll focus on this week.
Gen 3 proptech is building an entirely new status quo.
Finally, companies have begun "dismantling existing [real estate] systems and reimagining entirely new ones that address our growing demand for affordability, community and flexibility." While gen 1 turned quickly to gen 2, this part of the process will take decades. Think smarthomes, blockchain, group living, intergalactic real estate, and more. This is what I'll focus on next week.
---
The 3-step enable>improve>transform process appears in many industries adopting new tech. Don Norman's canonical example in The Design of Everyday Things is the car. We went from (1st gen, early 1900s) "horseless carriages" to (2nd gen, 1940s) stylish and fast modern cars to (3rd gen, now) an upheaval of the concept of personal transport with self-driving cars. Written communication is another example: email, to messenger apps, to communication-embedded work tools (ex., Figma).
Why does the adoption of new tech often happen this way? One reason is a lack of initial imagination. Norman notes that:
"Indeed the history of technology shows that new technologies and materials often slavishly imitate the old for no apparent reason except that is what people know how to do."
Another reason: the interest of entrenched stakeholders—this is especially true in real estate. You can still find some heated blogs on Zillow's battle with the National Association of Realtors over the publication of listing information.
Ben Thompson also talks about this process frequently.
---
4 cool jobs at companies building proptech 2.0:

---
Setter is like AppleCare, but for a home
Have we all watched the season finale of Grace and Frankie season 4? Taking care of a home is tricky. A lot of the widsom that you need is don't-know-until-you-know: how to keep track of plumbing, clean dryer vents, flush out a water heater, etc. When problems arise, it's challenging to judge the quality and trustworthiness of contractors. Setter is building what Techcrunch calls "home improvement concierge." You pay a subscription fee, and Setter develops a maintenance plan specific to your home. They send you SMS home improvement reminders ("change your smoke detector batteries"), perform an annual "check up," and connect you with a pre-vetted set of contractors when you need professional servicing.
Setter is hiring in operations (includes entry level) and product design.
---
Landed helps educators buy homes in expensive areas
This is such a cool company. Here's the problem they're solving: a Washington DC teacher makes somewhere between 40k-60k per year, but the median home price in DC is north of 800k. For a family a two educators saving 10% a year towards a home, it would take 12 years to afford a down payment. Teachers are a critical part of any community—Landed helps them own a physical stake in it. They pay for 50% of a down payment in exchange for a 25% share in the future gains/losses of the home. It's sort of like a Lambda School ISA model for real estate: incentive alignment. They're currently serving educators in "school districts, colleges, and universities in California, Colorado , the state of Hawaiʻi, Massachusetts, Oregon, Washington, and Washington, D.C."
Landed is hiring a product designer, a relationship manager, and a director of investments.
---
OJO Labs is a virtual assistant for homebuyers
As I wrote about in "Options," there are sometimes too many options, and real estate is no exception. OJO's AI helps homebuyers find the perfect home amidst the see of listings. You tell OJO what you want in a home: say, a fireplace, an elegant clawfoot tub, a front yard, good schools. OJO looks though all the listings on the market and pushes you the ones you should look at, and when you find one you like, it connects you to a real estate agent for tours and closing. OJO doesn't replacing agents—it's more like an automated top of the funnel that personalizes and streamlines the early "research" part of the home search. This company also has a very startup feel: their careers page says that they pride themselves on "building something indistinguishable from magic;" they also have publicized values like "embrace discovery."
OJO is hiring in marketing, product, engineering, and sales.
---
Rentberry is like Airbnb for long term rentals
While the 3 companies above focus on customers in 1 part of the home-shopping journey, Rentberry sticks with renters and landlords across the entire process. They're trying to solve the fragmentation of using separate tools for research (Zillow, Craigslist, etc), closing (Docusign, email), and communicating (text, Facebook, property management software, etc) by integrating all of these steps in their platform. Plus, by providing research and closing tools for renters, and advertisement and property management tools for landlords, they've amassed market data, which they use to better inform both sides of the market. Overall, this is a quintessential 2nd gen proptech startup: their software takes a difficult analog process and makes it truly un-miserable by handling all the messy details with one elegant UX.
Rentberry jobs will be visible here when they start hiring again.
---
Next week: 4 companies from proptech 3.0.
Yours,
Lea
---
I'll send you 1 cool job in an industry/issue-area of your choice for each person you share 4CJ with. Let me know by responding to this email or by twitter (@leaboreland). I want to hear about what you're interested in and what you want to do. If you send 4CJ to 20 people, I'll send you 20 jobs I think you'll like.